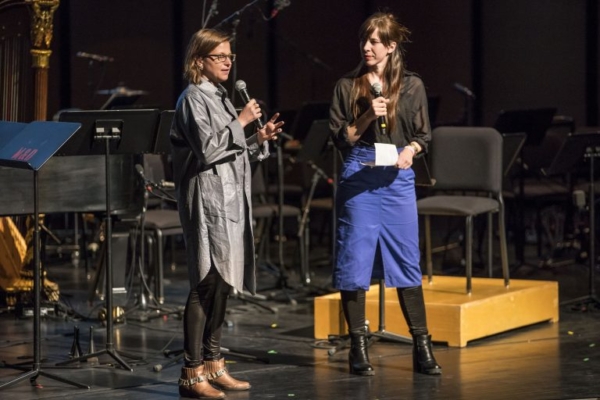 Curation
Chicago Symphony MusicNOW, Soundbox at the San Francisco Symphony, Experimental Sound Studio
CHICAGO SYMPHONY ORCHESTRA'S MUSICNOW SERIES
In the last few years Missy has curated concerts and events all over the world. As part of her residency with the Chicago Symphony she is responsible for curating four concerts a year for the orchestra's MusicNOW chamber series at the Harris Theater in Chicago. These concerts have featured some of today's most innovative composers, many of whom are relatively new to Chicago audiences. During her tenure at the CSO, the orchestra has commissioned new works and arrangements by Courtney Bryan, Nicole Mitchell, Wang Lu and LJ White. (pictured: Missy Mazzoli with composer Suzanne Farrin)
SAN FRANCISCO SYMPHONY SOUNDBOX
In February 2020 Missy was invited to curate two nights of music with the San Francisco Symphony as part of SoundBox, a unique and wildly popular event series. Missy's concerts, entitled Modern Sanctuary, created a series of rituals for our modern age, featuring composers who create sacred sonic spaces, often inventing their own musical styles of prayer, meditation and communion. The sold-out event featured music by Mario Diaz de Leon, Arvo Pärt, Marcos Balter, Meredith Monk, John Luther Adams and Mazzoli herself. The event was conducted by Edwin Outwater and featured DJ Lorna Dune.
EXPERIMENTAL SOUND STUDIO
In July 2020, during quarantine, Missy curated an online concert for the Chicago-based Experimental Sound Studio, featuring live performances and videos by cellist Gabriel Cabezas, violin/voice duo Shepherdess, and composers Elizabeth A. Baker, Mario Diaz de Leon, Warren Enström, Gabriella Smith, Alyssa Weinberg, Annie Hui-Hsin Hsieh, Joel Thompson and Annika Socolofsky.